What to Feed Your Toddler
  Summary
   – Feed your child the same foods that you eat.
   – It's your child's job to decide whether and how much to eat.
   – Provide a variety of foods from each of the food groups.
   – Treat the guidelines as a rough plan for what you provide – meeting the guidelines is up to them!
   – Always provide a familiar food alongside new foods.
   – Never pressure your child to eat and provide a stress-free environment for them to eat in.

On this page:

Your Child is a Mini You
Your child is exactly that – a mini version of you! There is no need to feed your child differently to you, they will likely just eat a smaller amount to fuel their smaller bodies. Your children will look to you for guidance in everything they do so it's important to try to be the best role model that you can be.
From 12-24 months, your child should be provided with a variety of foods from each food group that's consistent with the Australian Guide to Healthy Eating.  Don't place additional pressure on yourself to make sure your child meets the guidelines.
Remember your feeding roles when feeding your child. You are responsible for the What, Where, When when it comes to eating and your child is responsible for WHETHER and HOW MUCH they eat.

Food Recommendations for 12-24 months
Treat the guidelines as a rough plan for what you provide – Meeting the guidelines is up to them!

Veggies
2 – 3 servings of veggies a day-  1 serve is:
1/2 cup of cooked veggies (broccoli, cauliflower, spinach, carrots, etc)
1/2 medium potato/sweet potato
1 cup of leafy raw vegetables
1/2 cup of cooked lentils/legumes
Fruit
1/2 a serve of fruit a day- 1 serve is:
1 medium piece (apple,orange, banana)
2 small piece (kiwi fruit, plums, apricots)
1 cup of canned fruits in their own juice
Cereals and Grains
 4 serves/day of cereals and grains (wholemeal options best!) – 1 serve is:
1 slice of bread
1 crumpet or small English muffin
½ cup of cooked rice, pasta, noodles, porridge, quinoa or polenta
⅔ cup of wheat cereal flakes
¼ cup of muesli
Lean Meats/Meat Alternatives
1 serve of lean meats/meat alternatives a day  – 1 serve is:
65 g of cooked lean beef, lamb, veal or pork
80 g of cooked lean chicken or turkey
100 g of cooked fish fillet
2 large eggs
170 g of cooked tofu
1 cup of cooked lentils, chickpeas or canned beans
1 1/2 tablespoons of nut pastes and spreads
**avoid whole nuts due to their choking risk!
Dairy
Full fat dairy is key from 12- 24 months. Soy (except fortified soy products and soy formula where specifically indicated), and other  alternate milks or milk substitutes (e.g. goat's milk, sheep's milk, coconut milk, almond milk) are inappropriate alternatives to full fat dairy or breast milk from 12- 24 months. 
1-1.5 serve of Dairy per day- 1 serve is:
1 cup of (250 ml) milk
¾ cup (200 gm) of yoghurt
2 slices of cheese
½ cup of ricotta cheese
Fluids
Water is best! At this age, your child should be drinking fluids (water, full fat milk) from a cup.
Avoid giving soft drinks, flavoured milk or water, juice, energy drinks or sports drinks as these are high in sugar and don't provide any nutritional value to your growing toddler. They can lead to fussy eating behaviours and dental issues.
Learn more about the Five Food Groups at Eat For Health

Tips for Meal and Snack Time
Be sure to never pressure or force your child to eat, it's their choice as to how much food they want to eat.
Meal Time
It's easier to reach their daily needs by sticking to an eating pattern of 3 meals a day (breakfast, lunch, dinner) and a couple of snacks in between. 
Don't stress if your toddler hasn't reached the recommended serves for each food group each day, rather look at the total week to see how their average intake is.
Sit at a table without distractions. Don't allow your toddler to eat on the run or whilst doing other activities.
If your toddler is hungry at a non meal or snack time, offer water and let them know their next meal/snack is not far off. 
Always offer a food they are familiar with and enjoy with a new food as this takes the pressure off and reassures them that they can eat something, making them feel braver about considering tasting and perhaps even eating the new food.
Snack Time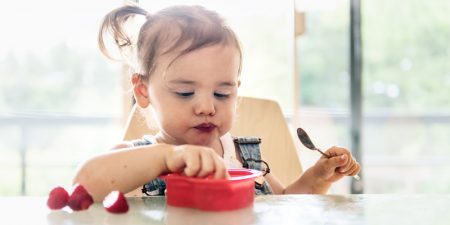 Snacks are just as important as meals and are an opportunity to provide nutrient dense foods, similar to what you would provide at meals.
A healthy snack could include a combination of fruits, vegetables, meat, fish, lentils, legumes, eggs, breads/cereals and nut butters. 
Avoid packaged "snack" foods as these are not as nutritious as whole foods. 
Remember to sit at the table and avoid letting them snack on the run.
Snack Ideas
Hard boiled egg (cut up)  + wholemeal toast + cut up 
strawberries
Yoghurt + 1/2  chopped banana + cut up blueberries
Wholemeal english muffin (1/2) + hummus + carrot sticks
Pikelet + nut butter + sliced strawberries 
Tuna or sardines  + wholemeal toast + green beans 
Low fat milk + carrots/celery sticks.
For meal and snack ideas got to: Super Healthy Kids and First Steps Nutrition UK.